Rowing an ocean to learn to sail
Who would have thought one of the Talisker Whisky Atlantic Challenge rowers would arrive in Antigua bruised, battered and elated as part of the fours team 'Bristol Gulls' only to decide that while in Antigua the next thing on the bucket list was learning to sail.
While Sarah Hunt, an engineer at Rolls Royce in the UK, embarked on the challenge of a lifetime rowing 3000-mies across the Atlantic, partner Sarah Whittington arrived in Antigua as part of the support team bringing the team of fours personal effects ready for their arrival. Sarah W. works for a Camping and Events company in the UK and given the pandemic has been able to work more flexibly allowing her to take full advantage of the need to be in Antigua when the Bristol Gulls arrived.
Their campaign focused on sustainability with their boat being the first ever eco-boat made partly from post-consumer recycled plastic bottles.
The team worked towards the row over a two year period. To prepare for the row the team went through analysis with sports psychologists to ensure the team dynamic could work for the arduous task at hand. With an overall plan of 55 days at sea the team blasted their goal arriving in 46 days.
While Sarah W was awaiting the arrival of the team she was scoping out things to do in Antigua and discovered the National Sailing Academy on Dockyard Drive. A week and a half after the rowers arrival from the Canaries, the two Sarah's walked into the NSA to start the first of 6 days of intensive sail training with Senior Instructor Joshua Daniels.
I caught up with Sarah and Sarah today on day four of their course. They have already passed RYA Level 1 (NSA is an Royal Yachting Association accredited sailing school) and nearing the end of RYA level 2. Tomorrow they start level 3. While the week is really intensive (although they did get Wednesday off to experience Eli Fullers Adventure Antigua tour) they were full of praise for the course and delighted that they had the opportunity to learn to sail while in Antigua.
Heading out with Senior Instructor Joshua Daniels, who at the age of 20 is a homegrown, home trained senior instructor who already has his yachtmaster, they've developed a great rapport and are really being put through their paces. At the same time Josh is ensuring that he is moving them along at the pace they are willing and able to work to. Of the training Sarah W. said as someone who has never been on a boat she is loving it. 'Josh has really worked with us to understand how we learn and created a safe space for us to make mistakes, challenge us and surprise us.' For both ladies they feel it's a great opportunity to upskill while on vacation. While they had no expectations of how it would be, by the end of Level 1 they couldn't believe how much they have learned. Apart from the basic skills of learning to sail, experiences such as heading out on the rib to the harbour mouth to look at and learn how to read the weather and discuss how that will impact their sailing have been really valuable.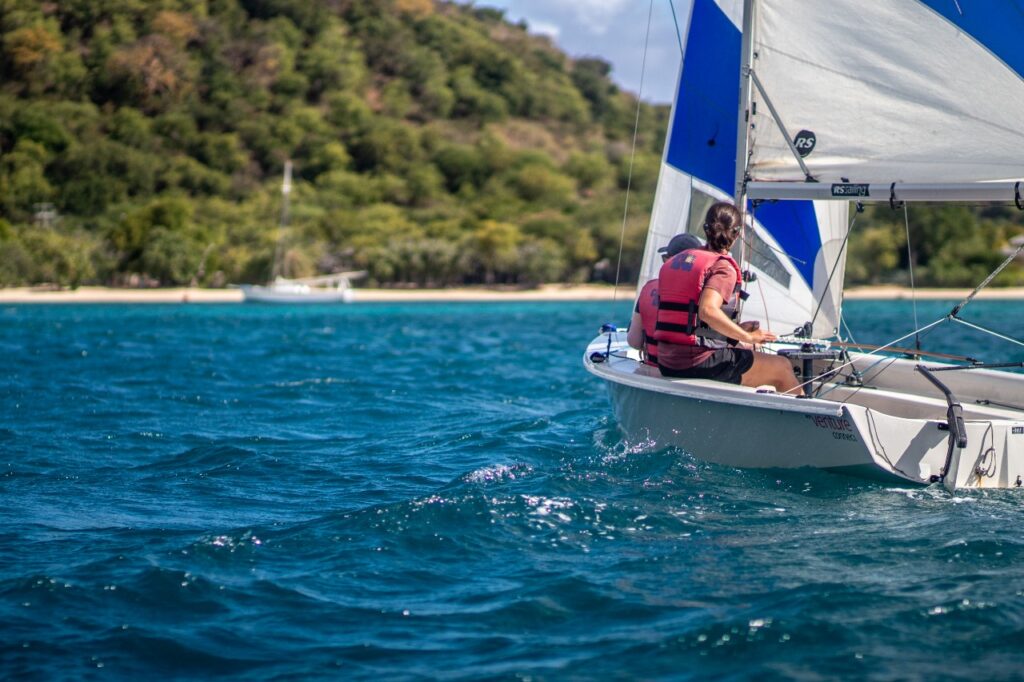 Sarah laughingly also regaled me with the fun part when Josh quietly whispered 'jump off', and the other Sarah suddenly found herself as single handed sailor as Josh jumped out too and a man overboard drill started with the NSA dummy and ended up with Josh in the water and the girls working out how to deal with the real thing.
Sarah continued by saying, 'The skills gained have been about so much more than sailing. Its been about team building, communication, the weather and so much more.' And of the NSA and the team, 'Everyone is so friendly.'
An additional bonus end day of sail training and a tick off the bucket list when the instructors were lucky enough to get a visit from Blake of Liftfoils.com to get some instruction on an electric surfboard. The two Sarahs joined in and performed fantastically on their first foiling experience.
RYA Dinghy Levels 1-3 and Sailing with Spinnaker are run year round along with casual sailing lessons. To find out more visit www.nationalsailingacademy.org or call 562-8060.
To learn more about The Bristol Gulls check out https://www.thebristolgulls.com/