Combine your Holiday with Learning to Sail,or just improve your sailing skills,in the sunshine & warm waters of the Caribbean Island of Antigua. Year round sailing in T-shirt and shorts – no wet or dry suits needed!
The Sailing Academy is an accredited RYA (Royal Yachting Association) Training Centre offering courses for both dinghies and keelboats by RYA Instructors.
We are open all year round and offer both Youth and Adult Sailing Courses: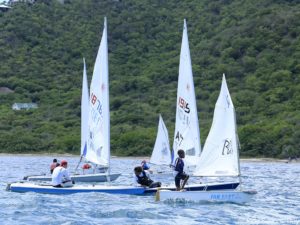 DINGHIES: Optimist. Zest. Feva. Laser. Venture

Adults: RYA Dinghy Levels 1, 2 & 3.
Dinghy Sailing with Spinnakers. Dinghy Seamanship Skills. Dinghy Start Racing.
RYA Youth Sailing 'Start Sailing' – Levels 1- 4.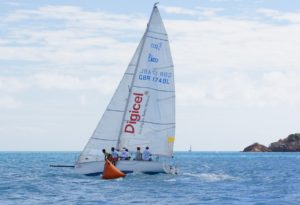 KEELBOATS: Cork 1720's
Keelboat Sailing 1, 2 & 3.
Keelboat Sailing with Spinnakers. Keelboat Seamanship Skills. Keelboat Start Racing.
We have affordable accommodation onsite – please see www.thelodgeantigua.com for details – or there are a variety of other accommodation options to suit your preference and budget – see www.antiguanice.com.
Our training courses will usually be in morning sessions, leaving you the afternoons free to enjoy all Antigua has to offer. We can also arrange full day courses by arrangement if preferred. A course usually consits of 4 half day sessions or two full day sessions.
Our rates for RYA certified courses are as follows:
Dinghy courses – Youth and adult – U$250 per person per course.
Keelboat courses – U$350 per person per course.
Discounts are available for more than one person within the same family/group.
The maximum Student/Instructor ratio is 3:1
RYA course fees include a personal log book and syllabus.
We also offer non-certified sailing courses for children and adults. These, more informal, lessons are arranged to suit you in terms of days & times and are offered at a cost of U$120 per person for a course of 3 lessons