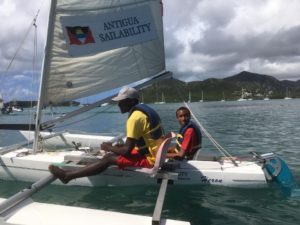 The Academy is fortunate to have had two 'Challenger Trimarans' donated by the "Sailability" programme in Peterborough U.K. – who have operated a Sailability programme for many years.
Thanks to the sponsorship of Francis Trading and Geest Lines, these boats were shipped to Antigua free of charge and are now available at the Academy.
We have also been fortunate to have the services of Mr. Bob Bailey and his team who have many years' experience of sailing for the disabled.
He has been available to train the Academy instructors who are now working with the disabled adults and children of Antigua on a weekly basis.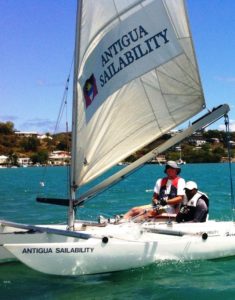 It is impossible to overstate the delight that the wholly new experience of sailing can bring to the lives of our disabled sailors. In many cases, they will eventually learn to sail the boats by themselves, but, even those who cannot, experience a very real pleasure on being out on the water and the sense of adventure that it can bring to their lives.